Mod Summary:
Experience a multi-year/season playthrough without having to put in hundreds of hours or have incredibly short days to do so.
Always have something to prepare for eg. cold and scarce winters, hot and dry summers.
This mod allows the player (or host of a world) to set the max amount of days in a month. Min 1 to Max 15.
Based on the value set, the mod will dynamically simulate a shorter in-game month.
Example: 10-day months create a 2 day skip. At every end of the day, 2 days will be skipped. See time-lapse video and pay attention to clock which simulates roughly 7 day months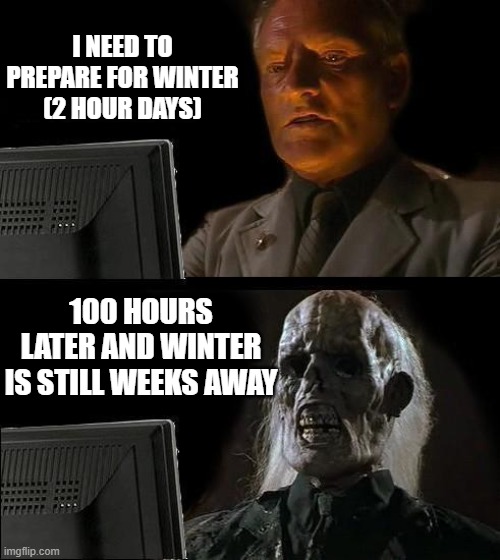 Time-lapse of Seasons:
How does this affect water/electric shut-off, farming, erosion, days survived, etc.?
Time-based sandbox settings (zombie/loot respawns included) will only progress when time progresses normally through gameplay and or sleeping (also sped-up time in singleplayer).
Example: Lets say your world starts on 7/9/1993 (MM/DD/YYYY) and you set water/electric to shut-off on day 10.
If you set this mod with 10-day months. Your water/electricity will NOT shut-off on 7/19/1993.
Instead it will shut-off around 8/10/1993, almost a month later because you've only played 10 in-game days but simulated a month of time passing.
Setting info and recommendations:
After enabling the mod, the setting can be found within the sandbox settings under "Surviving Through Seasons" (Default 10-day months.).
If playing with 10-day (or less) months, set vanilla hours per day to 2+ so you have more time per day for tasks.
Generally, players may want to increase farming speeds and yields if playing with 10-day (or less) months.
Compatibility:
Tested w/ B41, can be added/removed from an existing save. (Likely works w/ B40).
Multiplayer and dedicated server compatible.
Shouldn't conflict with any other mods.
Future plans:
Additional settings to allow specific seasons or quarters of the year to be longer (such as winter).
If possible, develop settings to automatically scale farming speeds, erosion etc.
Known issues:
Anything above 15 doesn't scale properly, more logic will need to be added. Currently max days per month is 15.
Credits:
Inspired from Initial mod:
nigel
A faster months mod


Workshop ID: 2753086629
Mod ID: survivingthroughseasons