1.1.1 (29/03/2020): Added two new furniture pieces: Lamp End table and AC unit.
1.1.0 (20/02/2020): This mod is now 1.1 compatible. Fixed the issue with stone campfire not processing bills.
1.0.0b (11/06/2019): Minor bugfixes.
I have always found vanilla furniture to be lacking in depth and quantity. After researching Complex Furniture, the research tree for furniture pretty much ends, with a couple of odd technologies adding things like Vitals Monitors and Hospital Beds along the way. As part of the Vanilla Furniture Expanded mod, the team consisting of the Author of Android Tiers, Atlas, and me would like to add some sort of progression to the furniture of the rim, whilst also keeping it Vanilla friendly. Listed below are the main focus points:
Furniture added in this mod is by no means meant to be era specific (example: a neolithic technology will not add pieces of furniture only useful in that era). I want the items to be useful in spacer age, and not force players to deconstruct them in order to replace them with new ones.
Main technologies (later explained in a technology tree) will add basic furniture. Any furniture with specialised use will follow the vanilla routine of having a separate technology designated to it.
I want to add variety to furniture, but not simple reskins. Different beds will have little variations in either crafting recipe, comfort or rest effectiveness provided etc.
Graphics will be vanilla friendly.
Mechanics will be vanilla friendly. I have no intention to introduce overly complicated schemes by the likes of Rimatomic, which adds extensive structure trees for energy.
Mod will be modular - A main mod will feature ONLY main technologies. Any technologies on top of that will be released in form of additional mods, unless we introduce game options menu allowing to disable several segments of the mod. We can't please everyone, but we can allow people to please themselves, so to say.
Will not introduce any new resources. There is already plenty of mods adding new resources, and I believe that to stay within the realms of vanilla rimworld, we can easily work around with vanilla furniture.
Most of the furniture should be able to use stuff to make. There is nothing worse than being stuck with an item color that you don't really want.
As the content list is quite extensive (over 30 new pieces of furniture), I decided to move content description under every other tab. Scroll all the way down to see what furniture gets added as part of this mod.
NON-Steam Download:
https://drive.google.com/open?id=13sjUuO0zOBZDJD8SoXTutbUoW9IOyk0m
There are currently issues with the items disappearing after being built. It is a mod conflict, which means only some of the users experience it and we are figuring it out.
There is an issue of things disappearing from the architect menu. It is because the mod has been added to an existing game, and you need to research Complex Furniture again.
Practise Target (1.0) is incompatible.
If any pieces of furniture disappear upon being built, move the mod further up the mod queue.
Authors:
Oskar Potocki, an artist and a designer, responsible for all the artwork and visual imagery.
Atlas, a programmer and author of Android Tiers, responsible for all the programming.
Rimworld is owned by Tynan Sylvester. Obviously.
[ko-fi.com]
[ko-fi.com]
Join us on our Discord!
https://discord.gg/TgrUVET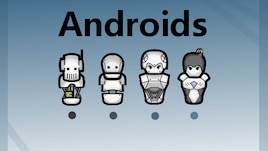 [discord.gg]