Neolithic Scavenging
Made for 1.3!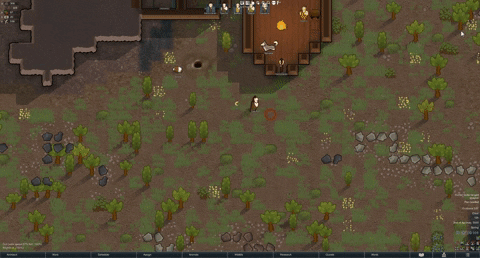 Temp gif, will update later
Embrace the wild, find your basic sustenance with Neolithic Scavenging.
Before reading further, included is an in game mod menu that allows you to change chances of raw foods to appear, fail chances, and you can even disable certain tile types. Check it out and change some settings to find a good fit for your story. You have the power to balance it to whatever difficulty level you want. The standard setup is likely way too easy.


Scavenging for food gives your colony a chance to survive in any climate, any biome, and and any food situation.
Cavern dwellers stepping onto the surface for the first time?
Raiders burned your fields?
Random chemfuel explosion eradicated your meal supply?
Resorting to eating your fellow pawn just to make it through the quadrum?

Not to worry, now you can cobble together natural sources of nutrients to sustain you till you get back on your feet in nearly any natural environment. Several of the foods in this mod carry no food poison risk, allowing you scrape your colony back into working order without food poisoning being your downfall. Just be careful which items you eat.

This mod includes raw foods you can find in the wilds, and a recipe for Neolithic Dried Mush which has less nutritious value than pemmican, but suspiciously doesn't cause food poisoning. This can be made at a campfire with no technology requirement.

The ability to locate food in any biome, but still keeping the chance of success lower for areas like Ice or Sand, should allow for more brutal starts without having to expressly rely on random manhunter encounters, cannibalism, or possibly poisonous berries.

Adds a scavenging spot to be worked with the scavenging work type.


All Vanilla Biomes Supported
Temperate Forest
TemperateSwamp
Tropical Rainforest
Tropical Swamp
Arid Shrubland
Desert
Extreme Desert
Boreal Forest
Cold Bog
Tundra
Ice Sheet
Sea Ice
Modded Biomes

Should be already compatible with the following, but please reports any bugs or conflicts you encounter in the comments:
ReGrowth: Boreal Forest Expansion
ReGrowth: Cold Bog Expansion
ReGrowth: Desert Expansion
ReGrowth: Temperate Forest Expansion
ReGrowth: Tundra Expansion
ReGrowth: Aspen Forests
ReGrowth: Wasteland. Depleted and rubble tiles have nothing to scavenge for currently.
Biomes! Islands
Please comment any modded biomes you want added and I'll see what I can do.


New Food Items
Currently adds the following raw foods to be found with the scavenging spot, items found dependent on the biome. The art in game is a WIP. Will update below as I attempt to update with paint. Apologies, for I am not an artist. If something doesn't have art listed, assume it has a placeholder that doesn't match the aesthetic yet and is planned to be updated.

Meat Type:


Plants:


Spots marked with ? are planned but not implemented yet.

New meal: Neolithic Dried Mush, made at the campfire and above with a bill. Can be made one at a time or in bulk. Lasts an absurdly long time, however is not very nutritious. Luckily, it's so thoroughly cooked that its impossible to get sick from eating it.
*Added support for Dark Campfires*


Mod Menu Included
Included is a mod menu that will allow you to change chances of certain raw foods to appear, as well as fail chances. You can also disable certain tile types if you want. The ability to reset the entire mod menu back to default settings is planned.


Planned Changes and Feedback Needed:
The art for this mod is temporary, and I intend to commission an update to all raw foods and the scavenging spot soon™, assuming it can be financed. If you would like to chip-in art for this mod, please reach out to me via steam or discord if you would like to chip-in. Discord: Infinite#1861
Nutrition values and default spawn amounts are currently undergoing testing and are not fully balanced, please use the mod menu to modify them as you see fit. If you find a fair balance that feels natural, please provide feedback in the comments below!
Work quantity is not currently balanced as well as I would like, please provide feedback in the comments below!
The structure of the mod allows other biomes to be added, including modded biomes and terrain. If you would like compatibility to be added, please reach out to me and I will see what I can do to add them.
Item descriptions are still a work in progress, please be patient with me.
The future of this mod could see other raw foods and even treasure to be found, please comment below with what you would like to see.

I'm interested in commissioning an update to the art. If you would like to help reach that goal, reach out to me here or on Discord: Infinite#1861

Commissioned by Infinite and built by the all powerful Taranchuk. Meet wonderful creators in the discord link below:

[discord.gg]